Tiriji is an eco-project geared towards reviving a community's traditional ways of food production to enhance sustainable agriculture through care of our land, conservation of our environment, and empowerment of the local people to rebuild the broken relationships. These skills are needed to kickback the impact of climate change, build a sustainable food system, and create resilient communities.
We are planning to build a holistic peace retreat, training, and conference center for locals, visitors, and volunteers to come learn about sustainable farming practices. Our goal is to model 'simple luxury' through a high quality, low impact lifestyle and thus contribute to sustainable peace and development in our communities. The retreat center will include classrooms, a conference hall, a kitchen, an information space, a demonstration farm, and a communal area. The center will model simple living through use of solar energy, eco-toilets, organic farming, eco-friendly building practices, and other techniques for preserving the ecosystem.
Why this project?
Deforestation, chemicalized agriculture, and poor farming techniques have degraded the land so that we can no longer produce food without using hybrid (GMO) seeds. These practices are not only depleting the forests and the land, but also causing health challenges such as increased cancer incidence and other chronic health issues.
In our community, monoculture practices have affected food production diversity and have created a community that largely depends on maize and beans. Ultimately, this lack of variety, along with climate change, have led to food insecurity among the local people. The Tiriji eco-project will enable these people to dialogue about ways to create food sovereignty within their communities. The project will also facilitate the introduction of local varieties of different cereals and other food crops that have been forgotten, but can be grown using permaculture techniques. Overall, we hope to inspire the next generation to embrace permaculture as a way of life.
Your funding will go towards:
$2000 will be used to purchase the rain harvesting system: piping, water tanks, and gutters
$650 will be used to purchase tools (hoes (fork jembe), machetes, shovels (spades), and rakes)
$350 will be used to purchase seeds
$1651 will be the annual wage for one local who will be maintaining and developing the land, planting the gardens, and creating the food forest
$800 will be used to bring in a local permaculture expert who will provide feedback on the existing model farm, implement an initial on-site community training, and work with the local people to demonstrate how a permaculture project is developed and maintained. This amount includes both the training fee and living expenses of hosting the expert.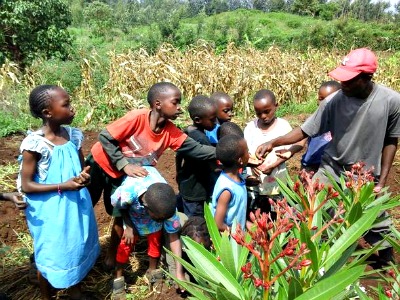 Become our partner!!
Tiriji is a project of International Peace Initiatives with the aim to create sustainability for the Kithoka Amani Children's Home (KACH), an orphanage that supports children affected/infected or made vulnerable by HIV/AIDS and/or poverty. We engage and partner with community members to imagine a sustainable world where there is enough for everyone's needs now and for generations to come.
If you feel inspired to support us 'birth' this space for enabling sustainable development and peace in our lives, empowering children and the community, and providing a model of an 'edible' eco-cultural and peace building space to enhance our environment, feel free to contact Dr. Karambu Ringera at ringerambu@yahoo.com.