Summer 2016
Dear Friends,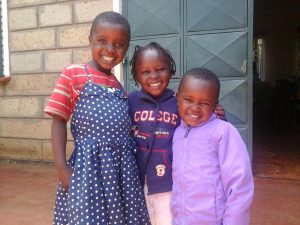 We are excited for this year and its new opportunities. Last year our supporters gave generously and uniquely, and we were able to begin installation on new solar heaters for the showers, start a new dairy business with our first cow, and continue with education and living assistance through some child sponsorships. There are approximately 6,000 orphans in Meru County alone and over 200 of them are on our waiting list, wanting to become part of the IPI family and to live in our Kithoka Amani Children'€s Home (KACH). That said, we are intentional about keeping our Home to a size that is financially manageable and to maintaining the level of support and love and education that we provide our children. They are at the heart of our mission.
We have been fortunate to have Karambu in the U.S. this year as she is part of the McCain Institute Global Fellowship program. It has enabled us to meet and collaborate on the future of IPI and has given her the opportunity to learn new approaches from other significant global leaders. We hope this leads to good things in the future, as her time away from Meru is challenging. We are all looking at her time here as an investment in the future of IPI. We are grateful for your support, and we hope to impact more lives in 2016.
Sincerely,
Nancy Martin Ross
IPI-US Board Chair
A Few Highlights
Kithoka Amani Children's Home
The children are thriving and, for the most part, have good energy.  Everyone who visits comments how happy the children at our home seem to be, and Lydia is the house cook who keeps their diet nutritionally strong and delicious.  We treat the kids as we would want our own children to be treated, given the same circumstances.
Thanks to a generous donor, we have new mattresses and that is a significant enhancement for which we are grateful. There is a cement pad that is about 45 square feet built outside the home where the kids play soccer and ride skateboards. Daniel, affectionately known as Tush, is adorable and is the youngest child in the home.  His mother died from HIV/AIDS and his father is a casual laborer who is very sick, and too weak to care for him and his siblings. We still have many young children who can benefit from having a sponsor to assist with education fees and living expenses.  Please consider sponsoring him or another child or giving a general donation.
Enterprise and Empowerment
A majority of girls in Kenya drop out of school as result of missing school days regularly due to a lack of sanitary pads.  Girls routinely miss school for the duration of their menses and because they fall so far behind many never graduate from secondary school.  These girls earn less than their peers and are at a greater risk of becoming adolescent mothers or sex slaves or contracting HIV, and are often condemned to a vicious cycle of poverty. It is against this backdrop that IPI is building on their sanitary pads distribution project by making reusable sanitary pads for girls and women in the community.
Women in the community have been looking for a project to enable them to raise income and they also cannot afford to buy pads for themselves or their daughters. If they learn how to make re-useable pads, they will sell them as well as use them. The Rotary Club of Denver partnered with the Rotary Club of Meru and has awarded a grant for this project. It includes sewing machines, supplies, training and will help to demystify menstruation at area schools.
The impact will be shown by how many women make this an income-generating project for themselves as well as how many fewer girls miss school. For now, the women work together and in time we hope to have enough machines for them each to be able to work from home.
Peace and Nonviolence Program
The Global Youth Summit that was scheduled for December was postponed due to the Paris terrorist attacks and fear of international travel.  However, some of the facilitators from The Amala Foundation came from Austin, Texas and were able to work with us and preview our location for the Summit that will now be held in October 2016.
Ecology
The farm has carrots, young moringa plants, kale, very tall corn, stevia, beans, lentils, yams, coriander, tomatoes, avocados, mangos, papayas and passion fruit.  The diet for everyone – guests and kids and staff alike – is essentially vegetarian.  Protein comes from foods such as corn, beans, and lentils.  The children help with weeding and the Amala Foundation was happy that when the youth come from all over the world for healing in October they will get a mini-permaculture lesson at the farm and will create organic vegetable patches.
We will make the connection of food sovereignty and peace when they come for The Youth Summit.  The Eco-lodge sits on a hill and has a beautiful view out over a distance and and construction is nearly complete, with just a few remaining plumbing issues. This will house visitors, students, and those coming to attend conferences.
Congratulations!
A number of students who visit The Kithoka Amani Children'€s Home and IPI in Kenya are greatly impacted and resolve to do something after they get back. A few of the recent projects that have come from students who have visited include:
Layne Vandenberg is a former student who spent part of a summer at IPI with a University of Michigan group.  She has developed a lip balm using local ingredients from Meru county and the packaging is made by the local women. If anyone can provide assistance on marketing to Layne please visit her website at www.kiamani.com
Julia Ross was awarded The Boston College Legacy Grant to build a sustainable library for the children in our Amani Children's Home.  Julia went to Meru with Students Shoulder-to-Shoulder the summer after her junior year in high school and is collecting books for the new library.  If interested in donating a book, please send a favorite children'€s book via Amazon to Julia Ross, 31 Glen Eagles Drive, St. Louis, MO  63124.
IPI-US Board of Directors
We welcome three new Board Members.  Mike McClorey shares his many years of sales and marketing success in the corporate world.  He runs a family farm, has a deep commitment to the environment, and will be able to offer insight on the Tirigi project in Kenya, as well as contribute to all other areas of the IPI Board. Mike lives in St. Louis, Missouri with his wife, Kit, and has two grown children.
Kara Nichols has had a global career working with International visionaries, private sector companies, NGOs, and government representatives from 18 countries.  Her primary focus has been education innovation, poverty and gender programs, and information technology startups.  Kara currently lives in Vail, Colorado and met Dr. Karambu Ringera at a Global Forum sponsored by Students Shoulder-to-Shoulder, a valued partner of IPI.
Jeffrey Smith, formerly the Africa Programs Manager at Robert F. Kennedy Human Rights, brings more than a decade of experience in human rights advocacy and research work to our board. Jeff lives in Washington, DC and will share his knowledge and established relationships with media professionals, government officials, and worldwide civil society organizations as we work to partner and to explore grants.
Make an Impact
Please consider sponsoring a child'€s yearly education or a child'€s complete annual costs.  An education scholarship is $500 per year and includes school fees, tuition, and uniforms.  A complete sponsorship is $2,500 per year and is a sound investment in the future of a student.  This includes food, healthcare, and all living expenses.  Donations of any size may be made be online, and small donations of any size to the General Fund are greatly appreciated.
We want to remind you that IPI was founded by a Kenyan and is entirely run by Kenyans. It was intentionally built in the same community as to those who are currently served, and this continues to be the model for future homes. IPI strives and is making progress to become self-sustainable, and this is achieved through education, empowerment, and micro enterprises.
Asante Sana to all of you who have volunteered, visited with us, or have contributed in any way. For any of you who are new to hearing about us or new to IPI, welcome aboard!  We couldn'€t do it without you all!
IPI-US Board Members: Nancy Martin Ross (Chair), Anne Fitzgerald (Vice-Chair), Jim Cederberg (Secretary), Eamon Aloyo (ICSP), Mike McClorey, Kara Nichols, Ralph Ogden, Jeffrey Smith, Cat Wollrab
Contact Us: IPI, P.O. Box 17415, Boulder, CO 80503 or cara.hoevet@ipeacei.org.
International Peace Initiatives is a 501c3 organization, EIN #65-1249494.
To donate online, please visit our website at www.ipeacei.org.