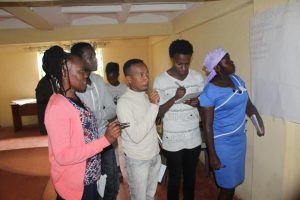 September 1, 2017 – The McCain Institute for International Leadership at Arizona State University congratulates the three winners of the 2017 Catalyst Grant: Giorgi Akhmeteli of Georgia, Urmo Kübar of Estonia and Karambu Ringera of Kenya.
As part of the Next Generation Leaders Program, the Catalyst Grant supports and encourages top achievement in the implementation of an NGL's Leadership Action Plan. Catalyst Grants are annual monetary awards of up to $10,000. Awarded funds must go toward further enhancing character-driven leadership and impact in the NGL's home environment.
The winners were announced at the graduation ceremony of the 2016 NGL cohort, held Aug. 30 at the McCain Institute in Washington, D.C. Since 2013, the NGL program has trained 44 leaders from 33 countries in values, ethics and character-driven leadership.
"We are extremely proud of the accomplishments of our 2016 cohort and have full confidence that they will take on the implementation phase of their Leadership Action Plans with great passion and determination," said Ambassador Michael Polt, senior director. "We are also delighted to recognize our previous graduates Giorgi, Urmo and Karambu for the positive change they have already achieved. Exemplifying the spirit of character-driven leadership, each will use their Catalyst Grant awards to further create a lasting impact in their communities and beyond."
Karambu Ringera, a member of the 2015 cohort, is the founder and president of International Peace Initiatives. By implementing her Leadership Action Plan, she is building an advocacy agency for citizens and developing a leadership-training program to educate and train current and future leaders. Her work has received national attention in Kenya and has directly impacted 1,000 people. Ringera will use her Catalyst Grant to support leadership workshops across Kenya.
"I am honored to receive a Catalyst Grant from the McCain Institute's Next Generation Leaders program," said Ringera. "Through the NGL program, I have been able to not only deepen my commitment to driving positive change in Kenya, but I have also learned to lead more effectively through trainings and networking with other leaders. I plan to use the Catalyst Grant to host leadership workshops in five regions of Kenya and throughout other countries in the region as I continue to expand the impact of my Leadership Action Plan, which is focused on building citizen agency to impact policy in Kenya."