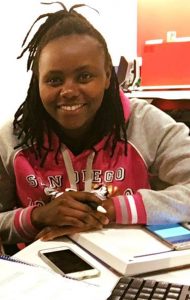 Joy is one of our International College Scholars Program students, currently studying in the U.S. She was first introduced to IPI in 2011 when she began working as a gardener on-site at IPI-Kenya. She has an amazing story to share about how you, our supporters, have helped her achieve her dreams of receiving a college education, and returning to Kenya to reinvest in her community. Here is her story:
Firstly, I would like to greatly thank International Peace Initiatives for the unswerving support along the way. Quality higher education is something I always longed for, although sometimes it seemed to be beyond reach, IPI through the College Scholars Program made my dream a reality. I am humbled and grateful to be one of the ICSP beneficiaries. ICSP has offered timely and constant financial support by paying my education costs, so my studies run smoothly. In addition, through IPI I am able to understand my community's needs and ways to approach some of the situations that my community faces. I hope that by sharing my education journey some people will be encouraged to discover their potential and attain their goals in life.
To begin with, I would like to share a little bit about my life. My sister and I were raised by my mum after our dad's demise in 1998. My mum has always been a strong person who values education very much and she would do anything to make sure we go to school. Unfortunately, a few months before I joined high school, my mum started suffering from asthma and allergic infections which limited her ability to provide for us. This was a huge blow not only to the family but also to my pursuit of quality education. At that time, I felt that my dreams were threatened, but little did I know that it was the beginning of a transformation that would shape my life in a positive way.
Life changed drastically from bad to worse and even the basic needs were hard to get, leave alone education. Although I had good grades I decided to go to a local day school as it was cheaper than a boarding school. Despite the challenges, I was still determined to further my education. Miraculously, I completed the high school education in November 2010. I learned many life lessons through the experiences in high school that helped me to remain focused on my academic goals. As the firstborn, it was my responsibility to take care of my mum, provide for the family, be a role model for my younger sister, and continue my education journey. As time passed my yearning for education escalated to a point where I could not be separated from it.
In 2011, I started working with IPI-Kenya as a gardener. For the first time in my life, I felt a sense of belonging and peace. I worked with kids and people who were facing similar situations and that motivated me in a very special way. The common ground inspired me to keep fighting regardless of the obstacles. My desire to join a university heightened and I started looking at the difficulties as great opportunities to grow. As years passed by, the bond between IPI and my community became stronger and stronger. As I interacted with people from different backgrounds, I realized that there is one thing I need to transform my life, family, and community. Quality higher education is the tool and I need.
In 2015, I was extremely excited to be selected as one of the IPI college scholars. Studying in the US is a life changing experience that prepares and equips me with the necessary knowledge and skills to bring change in my life and the lives of people in my community. I completed my first year successfully with excellent grades in all my classes because ICSP lessened my financial burden and all my time was committed to my studies. Overall, my time at UMKC has been amazing and I have been exposed to the American culture. The cultural knowledge has influenced me to think broadly and critically leading to better decisions and improvement in my relationships with other people.
Being able to continue with my studies brings hope for a better life to my family and motivates my younger sister. My mum is also able to take care of herself as she no longer struggles to pay my fees. When I complete my education, I would like to transfer my business skills to the people in my community and encourage them to start small businesses. By doing that, they will improve their financial situations by creating self-employment and exploiting business opportunities. It can be argued that a business mindset will lead to a long-lasting impact on the economic evolution in my community.
Words cannot be enough to express my gratitude, but I promise to always do my very best in school. Once again, thank you all and may God bless you all abundantly.
Many thanks,
Joy Karambu