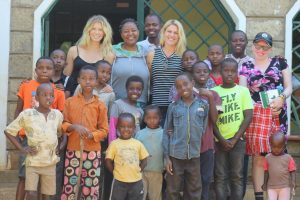 The staff and children at the Kithoka Amani Children's Home love to welcome visitors and volunteers. More than 50 children call KACH their home and will welcome you with open arms.
Nothing can prepare you for the life-altering experience you will have when you visit the home. While you may go without some of the luxuries and comforts you are accustomed to, you will be rewarded by smiles from our children, the appreciation of our dedicated staff, or the embrace of  a loving member of our community.
You can arrange your stay directly with our Kenyan staff, or reach out to the U.S. staff to help you coordinate your visit. Here are a few details that may help you as you plan your visit to IPI-Kenya in Meru.
How do I get there?
If you are traveling from the U.S., we recommend registering with the State Department through the Smart Traveler Enrollment Program (STEP). Most visitors fly into Jomo Kenyatta International Airport and representatives from IPI will pick you up and drive you to Meru. It is approximately a 6-hour drive to Meru from Nairobi and IPI charges $100 each way for transport.
How long can I stay?
People have stayed as long as a month or more, or as little as a few days. To fully experience all that IPI has to offer, we recommend a stay of at least a week, which will give you the opportunity to meet and know the children and staff, tour the grounds and absorb all that the wonderful Kenyan culture has to offer. IPI-Kenya charges $35 per person, per night for room and board. Meals are additional.
What do I pack?
This is a common question we receive, so we have included a few things you may want to consider:
Sweatshirts/pants for nighttime, otherwise, quick-dry or wicking clothing is helpful. We also respect Kenyan culture and encourage our visitors to dress modestly.
Sandals and running shoes – hiking boots are too heavy and hot for the Kenyan climate
A sunhat is essential.
Mosquito repellent and wet wipes
Meal replacement shakes, power bars, and vitamins
A reliable flash light
Electrical plug adapter for charging electrical devices
Can I bring gifts?
We ask our visitors to not distribute gifts at random to the children at the Home. However, we appreciate the generosity and giving nature of our guests and have made a list of items that can be given to the staff to distribute to the children.
Toys for children under 10 years old:

For girls – dark-skinned dolls, glitter pens, stickers
For boys – card games, board games, yo-yos, deflated soccer balls with hand pump
For all children – coloring and activity books, notebooks, pencils, pens

Books & Videos

Children's books for ages 4-10
Easy to read novels and non-fiction books for older high school and university students
Books for young adults
Children's movies on DVD (preferably animated and rated G or PG)
Associated Costs
Costs include transport from Jomo Kenyatta International Airport in Nairobi and meals and lodging while at the Amani Home. These amounts will be payable upon departure from the Amani Home.
Transport to and from Meru from Nairobi – $100 one way
Lodging and two meals per day (breakfast and supper) – $35 per person, per day
Lunch if on-site at KACH – $10 per person, per day