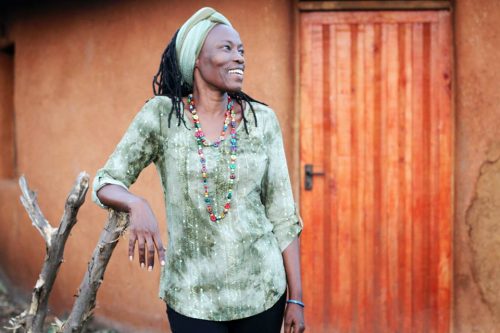 I, Dr. Karambu Ringera, first met a group of women who were who were living with HIV/AIDS in July of 2002. The women were meeting at my mother's home and they all were struggling to support themselves and their children. They asked me whether I could assist them in sending the AIDS orphans to school and also if I could help the women living with AIDS get medication. I said to the women, "I am just a student and really have no money. However, I will think about your request."
In November 2002, I organized a Kenya Cultural Dinner in Denver and the money raised from that event sent the first seven IPI AIDS orphans to school in January 2003. Kenya Cultural nights have continued to be one way IPI raises money for the IPI AIDS Orphans Education Fund. IPI's community building approach is participatory. Thus in 2003, I organized a group of women in Meru to support women who felt alone and hopeless as a result of having acquired AIDS.
One such woman was Gladys. When she discovered she had AIDS in 2002, she planned to kill herself and her two children (one 7 and the other 2 months then). Her in-laws had shut her out of the family. In fact, they blamed her for her husband's death! She had nowhere to go. Neighbors would not shake hands with her when they met. No one would visit her for fear of being infected by her. She was a lonely, very ill woman with two children who needed to be fed and sent to school. In Kenya, kids who cannot stay in school end up on the streets, and their lives become a hellish existence, leading to pain and an early death.
Gladys felt that killing her children would be an act of compassion, rather than subjecting them to the poverty and exploitation they would endure on the streets after she herself died. Gladys had been advised not to breastfeed her baby because of the risk of passing on the AIDS in her own body. She asked, "You tell me not to breastfeed this baby. You can see I am not able to get out of this bed. How will I provide for this child?" The women's group embraced Gladys by providing food and clothing for her child until she became healthy enough to provide for them. They provided milk for her child and the food the family needed. The women hugged her, ate with her, and invited her into their homes.
Today Gladys is alive and strong enough to take anti-retroviral medication. Her youngest child is 8 years old and going to school through the support of IPI. Maybe most telling, Gladys is hopeful. She creates beadwork that supports her and her children and provides enough to help her contribute to the community. Through an IPI program called BOLD (Bettering Our Lives by Design) IPI helps market the women's products in the USA and around the world.
What did I learn from Gladys? I realized that AIDS can't be dealt with simply as a physical disease, in isolation from the social and cultural context. Mental and spiritual strength comes from family and community. Healing for women suffering from AIDS and empowering poor women, means enabling them to take charge of their lives. Empowering women to care for themselves and their families within a community of support is an essential component of their healing. In fact, that may be the healing.
NAMASTE!
Dr. Karambu Ringera
IPI Founder and President